About Us
Griffin & Company Logistics was founded December 1st 1983. We were originally a Customhouse Broker handling clearances in the port of Minneapolis/St. Paul. In the last 29 years we have grown in many directions and have been at the forefront of the ever changing logistics business.
Shortly after our inception as a Customhouse Broker we set out to develop a premier network of agents in Europe and Asia to implement our door to door logistics programs. This was a bold step back in 1983-when the main mode of communication was the telex machine. Over the last 2 decades we have worked with these partners to deliver seamless air and ocean freight transportation worldwide. Our systems are integrated providing real time information about your shipments.
As a true freight forwarder, we have the ability to custom design a transportation plan that meets each individual customer's unique shipping needs. Whether managing a just in time inventory or developing a consolidation plan we have the tools to help you get the most out of your transportation dollar.
The projects that we handle are as diverse as the many companies that we serve. From putting one of our employees on an airplane to deliver a heart valve to a customer in Spain to shipping an entire steel mill to Germany or delivering a herd of cattle to Korea we can tackle all your shipping needs.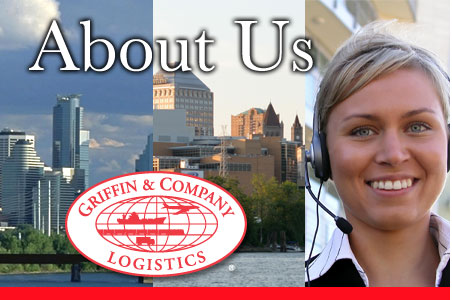 The services that we provide have expanded over the years. We operate a container freight station and bonded warehouse facility. Currently, we have 26,000 square feet of climate controlled warehouse space. Several of our customers never touch their import freight. We receive and redistribute it for them. We can warehouse your raw materials and deliver the goods 7 days a week to meet any production schedule.
Put our expertise to work for you. Griffin & Company Logistics is your one stop shop for import, export, and domestic shipping. With nationwide customs brokerage and warehousing/distribution we can solve all of your shipping needs.